Italian food pairs perfectly with wine, both red and white are excellent choices and our cellar has a wide variety from each producing region of Italy and Europe to attend for our guests preferences, whether you are looking for an aroma that transports you to the wonderful continent of Europe or want something more exotic, do not hesitate and try one of these delightful wines.
1 Zuani Vigne Collio Bianco D.O.C. is a bright-yellow wine with a soft, complex fruit-rich nose enhanced by lingering mineral notes. Its warm palate echoes the nose, revealing balanced acidity and impressively rich fruit on the long finish. Good with light starters, baked rice or pasta, fish, and white meats. Our sommelier recoomends to pair this wine with one of our new dishes on the menu, the Bucatini Alle Vongole which is pasta with squid ink, white wine sauce, clams, mussels, cherry tomatoes and fresh chives.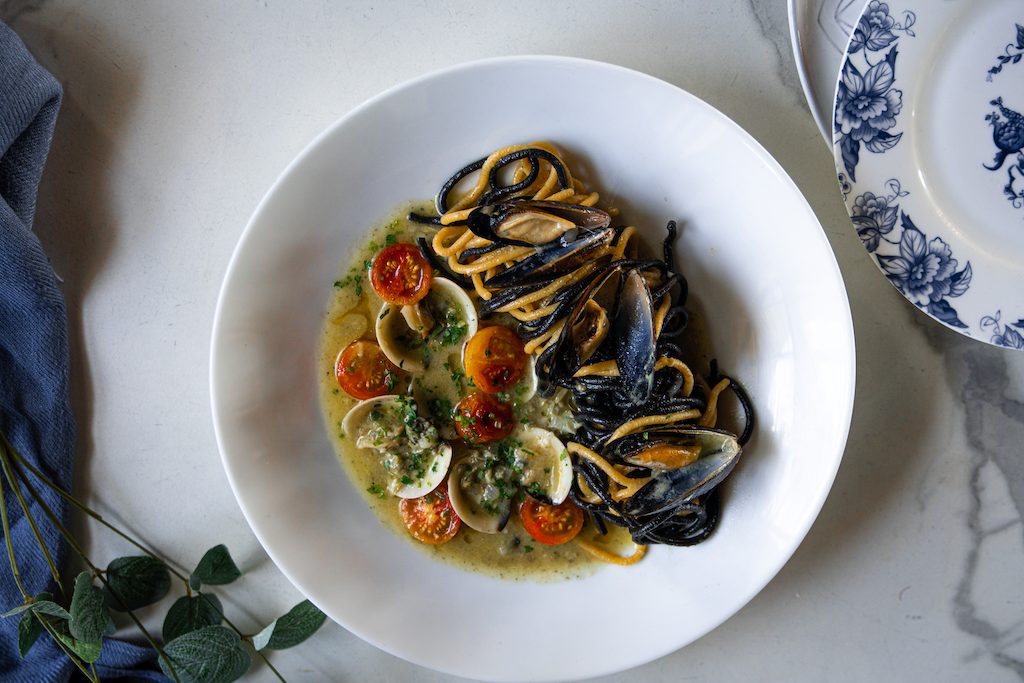 2. Massovivo Ammiraglia Vermentino is a unique and versatile wine that is best enjoyed with seafood or antipasti. It has a pale straw color with hints of green and an aroma that suggests citrus fruits, white flowers, and herbs. Its taste is light and refreshing while still having enough body to complement its food pairings.
3. Gatti Piamonte Moscato Piemonte  D.O.C. is a sparkling wine made from the Moscato Bianco grape. Its straw yellow color combines with aromas of honey, ripe fruit, peach, and pear to give the wine a wonderfully sweet scent. The taste is light and fruity, with citrus notes that make it all the more enjoyable after a meal.
4. Oddero Barolo D.O.C.G. is a wine with a garnet red color that offers aromas of ripe fruit, spices, and dried flowers. It is dry on the palate and has robust but polished tannins that pair well with beef filet with mushrooms, pasta with truffle, and cured cheese.
5. Antonio Fattori's Col de la Bastia Valpolicella Ripasso is a wonderful wine that is rich, deeply flavorful, and complex, the wine's finish gives way to notes of chocolate and cherries.
6. Taurasi Riserva DOCG is made from grapes grown in the southeastern region of Italy. The wine is ruby red with garnet reflections and has a fragrant aroma of sour cherry, cinnamon, nutmeg, vanilla and anise. Taste buds savor the fullness and well-balanced combination of sweet tannins and soft tannins that give it an aromatic persistence on your palate. Taurasi Riserva DOCG pairs well with red meats, spicy pastas as well as mature cheeses.
7. Philippe Alliet's Chinon Vieilles Vignes is 100% Cabernet Franc, and the wine offers an intense aroma of black fruits. The mouth is both gourmet and elegant, with silky tannins. The wine is aged for 12 months in oak barrels without new wood to allow the terroir to express itself. This wine pairs beutifully with dishes with lamb and duck, such as our Lamb Rack or Duck Arancini.
8. Saint Véran, Château de Fuissé is 100% Chardonnay grapes and has an aroma of citrus fruits, apples and acacia flowers. The mouthfeel is both creamy and mineral; the winemaking process in small oak barrels preserves the freshness and finesse. A recommendation for this wine would be our Cartoccio Frutti di Mare, which is a dish that has an extraordinary preparation and a mixture of delicious sea food.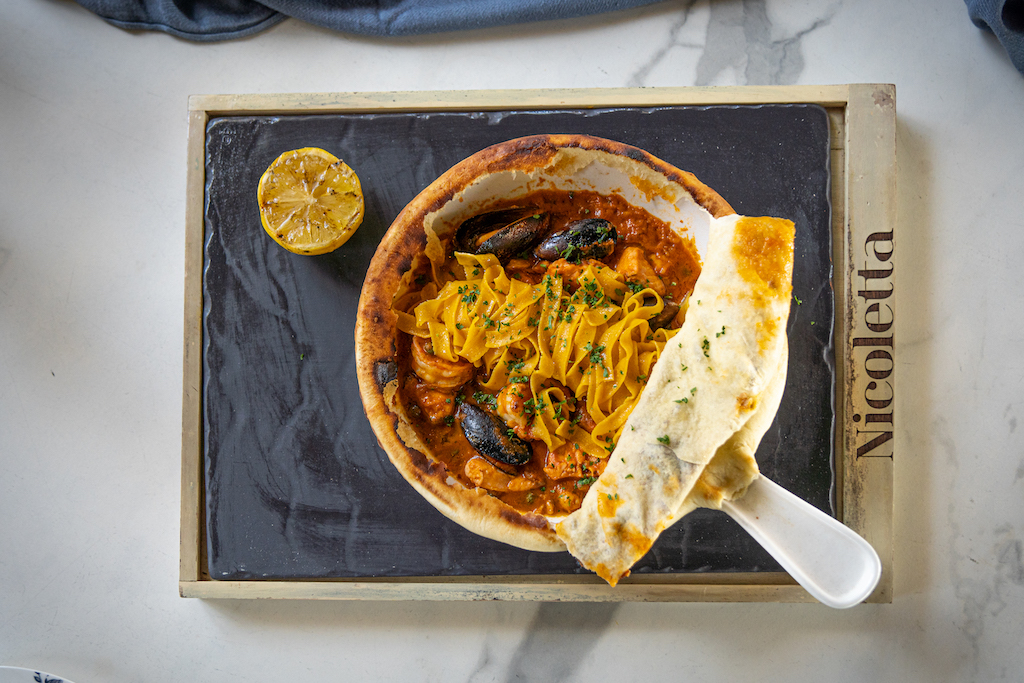 9. The Whispering Angel Rosé is a delicate wine with notes of dried cherry, licorice and cream. It finishes with notes of dried mango and hints of sage honey. This wine pairs perfectly with grilled steaks and salmon, as well as salads, cheese and other fish dishes. 
10. Nana Albariño is a Spanish wine that would be a match made in heaven for Pasta with lean fish like salmon. The wine's apricot, apple and peach flavors would also pair nicely with fruitier dishes such as a burrata salad. One great recommendation to pair this dish is our Octopus with pesto, this dish is grilled with roasted bell pepper and has crispy polenta cubes.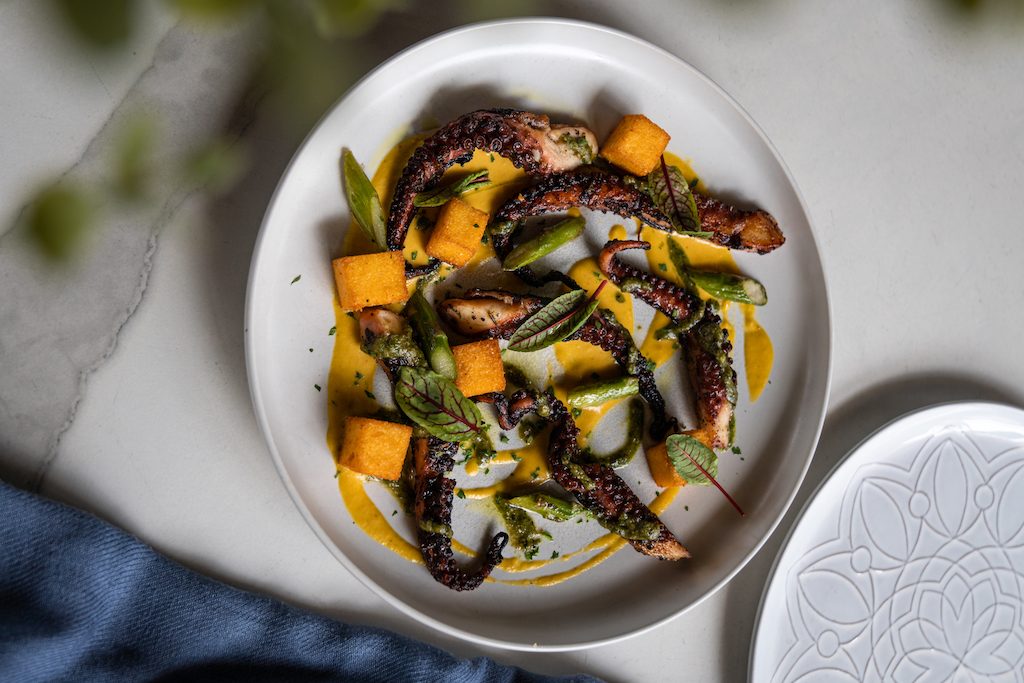 Now you know how to impress people with your wine pairing knowledge on your next visit to Nicoletta. Make a reservation through our website and follow us on social media to keep up with our news.