Nicoletta Modern Italian Kitchen was conceived as an innovative concept of Italian cuisine, by being unique and original in every traditional dish we discover new ways to amaze our guests. From flavors to ingredients, we give a modern twist at our kitchen while following the traditions of generations of Italian cuisine. 
Italian cuisine has characteristics that place it as one of the best in the world. That is why we would like to talk about 5 characteristics of this cuisine:.
1.- Fundamental Ingredients
There are many ingredients commonly found in Italian cuisine, but there are several essential ones that we will mention below:
Pasta

Parmesan cheese

Mozzarella 

Mascarpone

Olive oil

Tomato

Garlic

Seafood 

Green leaves 

Nuts
2.-Their food is part of the Mediterranean diet.
Although it may seem contradictory, due to the fame of Italian cuisine and the use of flour-based foods, the truth is that its cuisine is part of the Mediterranean diet, one of the best known thanks to the implementation of plant-based foods such as vegetables, legumes, nuts, seeds, olive oil, wheat flour or rice.
3.-Great gastronomic variety:
Beyond the popular and traditional dishes that we already love such as pizza and pasta, there are different options which enrich Italian gastronomy such as the following:
Risotto

Ossobuco

Ravioli 

Tiramisu

Carpaccio 

Lasagna

Capresse Salad
4.- Four course menu 
One of the particular characteristics of Italian gastronomy is that according to their culture they tend to divide the meal into 4 courses.
L'antipastos– These are hot or cold hors d'oeuvres such as caprese (mozzarella with tomato) or frutti di mare (raw or cooked seafood).
Il primo – Usually a hot dish such as pasta, risotto or soup is served, with plenty of vegetarian options.
Il secondo – This is the main course, consisting of meat or fish such as ossobuco, bistecca alla fiorentina, gamberi or mushroom-based such as fritto di porcini.
Il dolce – The dessert is usually tiramisu, gelato, pudding or cakes.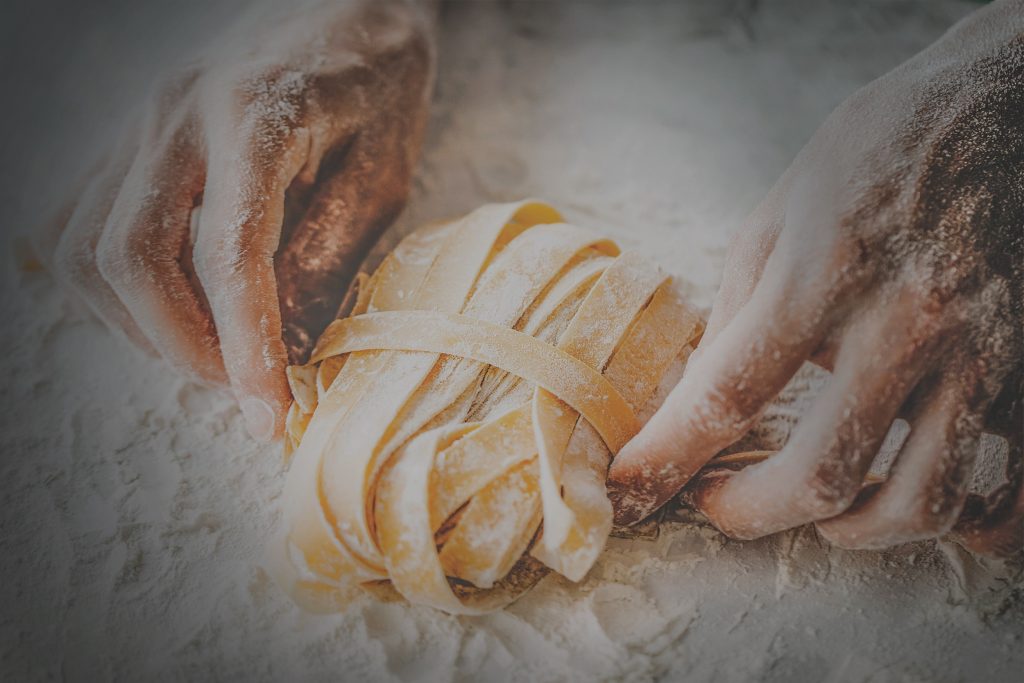 5.- Its cuisine is divided into 3 regions 
North – The cuisine of this region of Italy has two protagonists of Italian gastronomy, the Pesto sauce and the Bolognese. Another characteristic dish of this area is the Carpaccio, which is prepared with raw meat cut in slices, a touch of lemon, olive oil and Reggiano cheese. 
Center – In the center of the country the flavors of pork, lamb and beef are concentrated, becoming the basis of its gastronomy in this region of the country, accompanying the meats with vegetables turning a meal into a perfectly balanced dish for personal consumption.
Generally these meats are eaten grilled on skewers or seasoned with regional herbs and garnished. 
South – The food in this region of the country is the most widespread in the world. Pizza, spaghetti and macaroni are the characteristic dishes of this region as well as vegetables prepared with olive oil, the simplicity of southern dishes allows you to discover the typical flavors of the southern part of Italy in its purest state.
Follow us on Instagram and Facebook to stay up to date with Nicoletta's news and if you feel like trying the best Italian food in the Riviera Maya you can make a reservation here.