Cancun is a very popular tourist destination in the world, with beautiful beaches, crystal clear waters and a romantic atmosphere for its incredible sunsets. If you are planning a romantic dinner in Cancun we present you a list of the best restaurants to enjoy:
HARRY'S
This restaurant is known for having the best cuts of high quality meat and a wide selection of fresh seafood. It offers a wide variety of menu options and an excellent wine selection. The décor is elegant and sophisticated, with subdued lighting accompanied by live music creating a romantic ambiance.
Ver esta publicación en Instagram
NICOLETTA
Where your perfect evening begins with an incredible sunset view of the Nichupte Lagoon accompanied by a select wine cellar or a refreshing mixology ideal to enjoy that beautiful moment. Enjoy exclusive dishes with the essence of Nicoletta's tradition and seasoning, with delicious options such as 25 Layer Lasagna, Carpaccio Di Manzo or a Pizza Italian Charcuterie. Close your evening in a perfect way with a fascinating Tiramisu 24k ideal to share with that special person. Every architectural detail, its harmonious atmosphere and its incredible gastronomic proposal makes it the best Italian restaurant in Cancun for a romantic dinner. 
Ver esta publicación en Instagram
FRED'S
For seafood lovers, a good option for a romantic dinner is Fred's: the best seafood restaurant in Cancun. They specialize in having the highest standards of quality and freshness, along with American favorites and touches of Mexican culinary tradition in each flavor, in addition to having exclusive villas which have the best view of the Nichupte Lagoon transmitting the perfect atmosphere for a romantic dinner like no other.
Ver esta publicación en Instagram
CASITAS
Located on the beach, overlooking the fascinating Caribbean Sea, Casitas is a unique dining experience. Dine with that special someone with its menu serving fresh seafood and grilled meats, complemented by an extensive wine list and creative cocktails. Delight in the intimate moonlit setting to create unforgettable moments.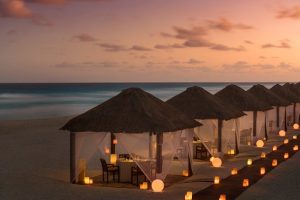 RYOSHI
If you are looking for a different gastronomic proposal, Ryoshi is a restaurant-bar that spreads the new flavors and creativity of the new Japanese, Oriental and international haute cuisine in appetizers, dishes and nigiris of the highest quality. Its beautiful architecture and peaceful atmosphere make it a great place to enjoy a romantic evening with your partner.
Ver esta publicación en Instagram
Traveling to Cancun will always be a good option and tasting the best dishes of these restaurants will leave you with an unforgettable experience. Book now and enjoy an authentic Italian experience at Nicoletta.